About Lesson
1. Open
Uniswap
and connect your wallet. Make sure Ethereum is also selected as your network.
2. Select ETH in the top field and WETH in the bottom. If you click [Select a token], you should see WETH above the list.
3. Input the amount of ETH you want to convert to WETH and click the [Swap] button.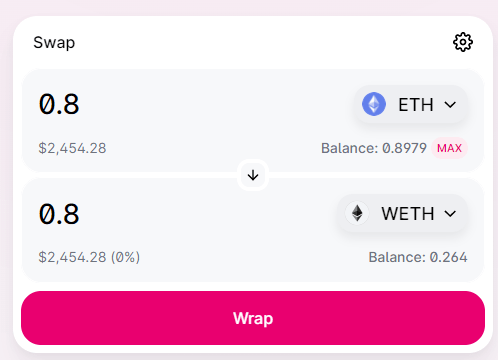 4. You'll now need to confirm the transaction in your crypto wallet. Don't forget that you'll also need to pay
gas fees
, so make sure to have extra ETH at hand. Check the details of the transaction and click [Confirm].
5. Now you just need to wait for the transaction to be confirmed in the blockchain. The waiting time will depend on the current network traffic. If you are in a hurry, you can speed up the transaction (i.e., pay higher fees) to have it confirmed faster.
Wrapping ETH on MetaMask
1. Open your MetaMask wallet and make sure your network is [Ethereum Mainnet]. Next, click [Swap].
2. In the [Swap to] field, search for WETH.
3. Input the amount of ETH you want to swap and click [Review Swap].
4. You'll now see a quote showing the conversion rate (which should be 1:1). Click [Swap] to finalize your transaction.